This summer I got a wild hair to paint the floor of my porch. It was born from a desire to make something happen in the space, mingled with a desire to just paint something big. I am always interested in the inspirational story. What is it that makes someone decide to create what they do? So, here we go. This is where I started: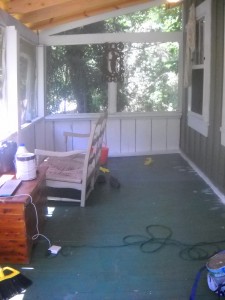 Every summer I teach an art camp. This year I had the children create a series of works inspired by American artists. Among them were Jackson Pollock, Romare Bearden, Alexander Calder,and John Baldessari.  Aside from witnessing the elation that a child experiences over their own creation, the best thing about my job is being forced to do really fun research.
I don't think it would be fair to cover American art without covering the incredible Georgia O'Keeffe. I remember marveling over her skulls and flowers as a child. But, somehow, in all my years, I had never come to question the fact that the images I have of her in my mind, cover such a broad stretch of time. It is widely known that O'Keeffe had a long-standing affair with photographer Alfred Stieglitz which eventually led to their marriage. Stieglitz made O'Keeffe the subject for a lifelong photography project. This summer I spent a goodly amount of time hunched over his photographs of her. In some the subject is her strikingly brazen visage, in others it is her wry smile, while some are simply of  her beautifully sculpted, sinuous hands. You can not stare long into the steely gaze of this woman without feeling as though she is somehow seeing you too.
And yet, at the same time there is the connection to the photographer. It is a powerful thing to look at the image of someone knowing that you are standing in the middle of a fixed stare between two people. Photos of O'Keeffe in her youth are emblazoned with a sultry passion that is meant for the person behind the camera. There is something so strong and mysterious about looking into the eyes of a dead woman when she was in the height of her life and knowing you are looking at an affair in the making. Taking that into consideration,  I am forced to look away.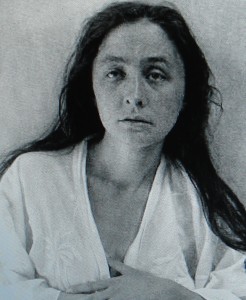 I personally prefer the later photographs of O'Keeffe. Her countenance has become her own. Despite Stieglitz's later affair and O'Keeffe's presumed subsequent nervous breakdown, her age brings with it a new beauty. With her old photographer long since gone, the desire to appear appealing or provocative is replaced with a stoic resolution which I find more intriguing by far. But it is of note that the ferocity of her stare has not faded.  It amazes me that the same commanding presence O'Keeffe held in her 20's only became more refined and dignified in her nineties.  Drawn in by the woman herself, I began to appreciate more deeply her works and I found great inspiration this year in her flowers and landscapes.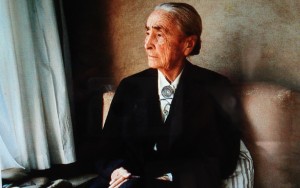 ~*~*~
My house is easily overrun with books. I have to take great care to purge on a regular basis. Sometimes, when there are so many, you don't even know what you have. The upside to this is that occasionally a pleasant book will turn up that you have never seen before. Such was the case this summer when I discovered, in my stacks, a delightful little title from 1914.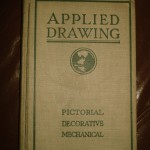 It is basically a tutorial for how to create art and design in the stylings of art nouveau. From the yellowed pages of this book flowed all manner of inspiration. I wanted to paint a rug on my porch floor and it just so happens there was a whole section on rug design.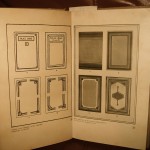 Then, I was left to grapple with the subject matter. With O'Keeffe still on the brain, I ran across this page. Oh, the flowers!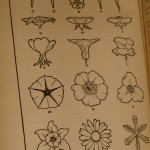 I realized that I was on to something. So, I married the size of O'Keeffe's flowers to the rug design from the book and threw in a geometric background. I checked out some books on poppies from the library and went to town. A few days later, my porch turned in to this: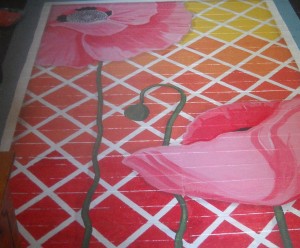 I hope she wouldn't mind.