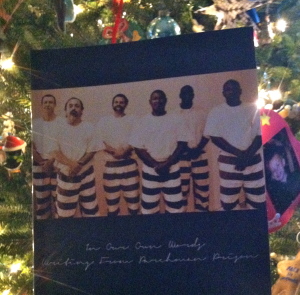 "We tell stories because they save us."

-Madeleine L'Engle
Yesterday I received a book I had ordered from Vox Press called, In Our Own Words, Writing From Parchman Prison."  As I sit by the light of the Christmas tree in my cozy home, I am reading a collection of stories written by inmates of Mississippi's federal prison. Louis Bourgeois has lovingly harvested these stories and prepared them for publication, in what I am certain is a plan to offer hope and empowerment to the men whose lives have run off the track, but the work doesn't stop there.
The book is filled with breath-taking and poetic passages that my words would not do justice. I will not try. Instead,  I will simply share this excerpt from Vincent Young's piece, "Cotton Picking."
"I saw the women take off their shoes about noon when the dirt warmed up. My mother would give me a kiss every time I'd empty my pillow case into her sack, and I wanted my kisses from my mother because the kisses meant she loved me and I was doing good […] The day after the birth, my mother caught me getting cotton from the other women and she called me by my whole name. That's a sign I was in deep trouble. She made me work by her side for the rest of the day. I couldn't run around the field getting cotton from the other women. I only got four kisses that day instead of ten. Once we got home she told me to go the kitchen table and that meant I was going to receive a talking to about what I'd done. When I got there she got on me for taking cotton from the other women. She told me that those women gave me cotton because they thought we were poor after seeing my sister and I in the fields instead of school."
Young is serving time for armed robbery and aggravated assault.
I was looking over an old blog post this week about interpreting our own lives in the form of a narrative. In it, I had spoken about the modern day fairy tales that teach, "sympathy for the devil," and how we look differently at characters when we see their upbringing (think of Disney's Maleficent and Frozen). We are at a point in history where we can see the truth that bad attitudes start with sad stories and are learning the tools of compassion through understanding. I am doubly convinced of this truth reading In Our Own Words which is a collection of anything but fairy tales.
Bourgeois's book, and those like it do more than offer hope to the authors. They encourage the rest of us to do our part to create a world that is more hospitable to those who are suffering. When  I read of Seriehel Belton's dilemma of choosing to attend school for the food it provided,  and the fear of being teased for not having supplies, it was a reminder that we all have work to do to make the world safer for those less fortunate.
Who is the devil? Is it the man who grows up selling cocaine or is it the poverty that drove him to it? This is an important question, because when it comes to our own stories, we can only fight one.  I do not mean to say that we are not responsible for our own choices. These prisoners are clearly paying the price of theirs, but I am saying that when we can only evaluate the choices of others when we hear the voices of others, and that as I sit in my snug, little home on Christmas Eve, my heart is bent toward the boys these men were. I am duly convicted of the detachment of my, "charity" this season and resolved to better next year, to do more than buy the toy, but also to hold the hand, to be the hope, and to love the children who will become the adults that will make the choices to serve humanity or their own unmet needs. The needs we meet are the ones that will go away.
I would encourage everyone to grab a copy of this book to support this initiative. It is well written, engaging, and soul-stirring. The money you spend on it will be hope-giving. May we all see the needs that we are called to meet and may we have the will to do so. It would seem as though neglect is the first crime.
Merry Christmas