I stood impatiently at the river's edge calling to my boy, "Let's go. Come on."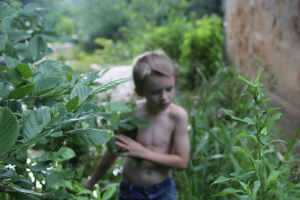 "But, look," he said, hunkered down, driving a small stick into the silt.  His face was intent, eyes fixed upon the water and I, with tapping toe was nearly too driven by the perceived need to hurry home and start dinner, but "Look!" he called again. Tugging against my own urgency, I cast my gaze to match his and saw them, the tiny clouds he was creating. Roiling sand stirring, becoming glitter in the sunlight. Each time he drove his stick down, it happened again. A magic emulsion rising.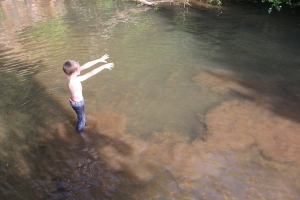 We spent nearly an hour by the water's edge that day. Tossing in handfuls of earth and conjuring billows.  I remembered. Wonder. It is the work of childhood, the steady stream of curiosity that drives the small ones to overturn the rocks, to poke the holes, to chase the movement in the tall grasses, to crouch at leaves, to study the small lives marching by with breadcrumbs like boulders on their backs. How sadly we outgrow this way of being. How pressing the need to rush.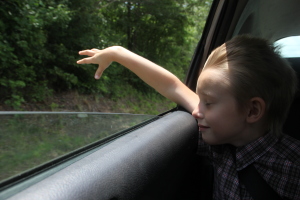 But, there is magic in the wonder. A full heaven lies in the microcosm along the ground, inside the flowers, and at the river's edge. Yet another is the macrocosm that spreads above us, the spinning stars, the yawning universe, the pale-faced moon. And, I have accepted God's nudging in my spirit that He would have us drink these heavens like the children do. Hands scooping heavens from the bowl He has provided, drawing them to our lips, and knowing wonder. The creation of our senses, the portals for the experience of each minute and monumental miracle, are  a testament of God's desire for us to remember wonder as evidence of His tender care and immeasurable control.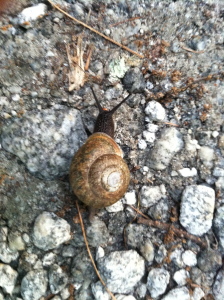 May you find cause to remember wonder.