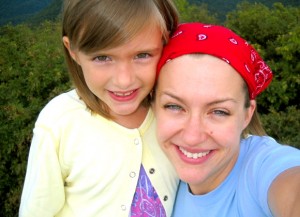 Last year, our family did a great thing. We started having a weekly family night. Every Friday, we fought and scrambled to keep the calendar clear for time together. The fight was totally worth it. We don't have a lot of money, so we have to get creative. Sometimes we would go fly kites or take walks/bike rides on the trail near our house. Sometimes, we would play board games over hot cocoa or even make pizza and pile up in the floor to watch rented movies (we tried to keep screen time limited, but if there was something out that we really wanted to see…well…you know).
This year, we have started something different. We are keeping the Friday family night theme, but we're rotating through one on one time. The first Friday of the month we have the whole family together.
This month was fun. We went to the park and did "The Loveland Family Games," where we had parent/child races on our hippity hop balls (yes, we have an adult-size hippity hop ball) and an endurance contest of who could eggroll (somersault or forward roll on the ground) across the baseball field for the longest amount of time- this makes you very dizzy. Its hard!
The next Friday, we have daddy/daughter – mommy/son date night. The following week, we flip flop. Finally, Ben's mom (my mother-in-love) keeps them on the last Friday of the month and we have our own date. I can not stress to you how awesome this has been.
A few weeks ago, Ben took our little guy on a father/son camping trip so Ella and I were left to do some exploring ourselves. She opted for an at home movie on Friday night and a three mile hike on Saturday. If ever I had doubts about this one on one time, they were eradicated that weekend.
Saturday morning, we made a trip to the farmer's market and our favorite restaurant where we sat on the deck with coffee and hot chocolate.Then, we headed home, packed a picnic and set out for Rabun Bald- to my knowledge, the second highest peak in our area. I like to tell people I could easily get lost in a paper sack. Of course, that day was no exception and Ella and I drove around back roads in the mountains for about half an hour. She was very patient with me.
We made it to the foot of the trail with plenty of daylight left and spent the next few hours chuffing up the mountain. Ella told me things about her life that I didn't know. I did not ask or probe. I think she just sensed that this time was meant for just such a thing. She shared with me matters of the heart – about things that had bothered her last year at school, about concerns she had. I found out things she was loving about school this year. She surprised me with the depth and sincerity of her feelings.
I realized then that we have reached a new point in our relationship. This 7 year old was not the baby I brought home from the hospital. She was not the needy infant, the super smart toddler with an amazing vocabulary, or the sassy kindergartner. She is 7 year old Ella, still super smart with an amazing vocabulary, still sassy, but aware of herself and her relationship to others and she is willing to share it with me.
On the way up, we stopped to look at the first evidences of fall – a number of beautiful leaves that were among the first to change color.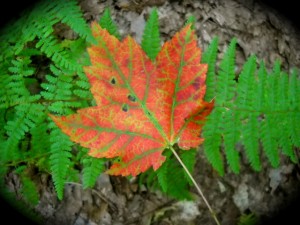 We were so thrilled to finally reach the peak. All our huffing and complaining were rewarded with the most spectacular view. And then… I tortured my sweet Ella by forcing her to wait while I took a million photos of her …and us …and the view.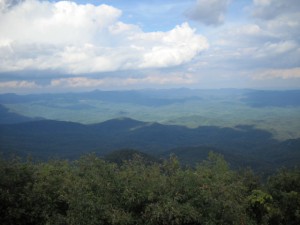 I know the best part of Rabun Bald for Ella is coming down from the mountain (does anyone know that Meat Puppets song?) The terrain is at a steady decline and there are berms that are either formed or built in the trail in parts. They are little hills about 9 inches high that stretch from one side of the path to the other. Ella loves the momentum of her downhill hike. When she and her brother are together, they like to do a rollicking, noisy run down the trail using the berms to launch them, leaping into the air.  Ella was not to miss the excitement without him.
We have a family call. It started as a whooping noise that Ben used on the job site. It is in such a pitch that it cuts through any surrounding noise and is highly identifiable from far away as a human. We use it in the woods to identify one another's location. If we feel the children are too far away, we will give a whoop and they will respond with their own little puppy barks that tell us where they are, that they heard us, and that they are making their way to us.
On this particular day in the woods, Ella was bounding down the trail enjoying the mid air suspension jumps and periodically I would call to her so she wouldn't get too far away. A few moments would pass and I would see her little head appearing a few feet in front of me as I rounded the bend. She would wait until I was in full view and then, in a flash, she would dissappear again. I would hear her laughing in the distance.
Then it occurred to me. This is like our life. I am catching peeks and glimpses of a moving story. And her beautiful little form will be forever disappearing before me. I will see her in the future, changed and transformed by her new adventures. I am so glad I get to be on this path with her and I am praying that the deposits I am making now will enable us, in the future, to keep up the conversation on the uphill climbs.